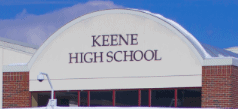 About Keene High School Clubs
Acapella Choir
Advisor – Danielle Heeran
Band
Advisor – Rich Clark
Big Brothers and Big Sisters
Advisor – Karen Brooks
Billiards Club
Advisor – John Rokes
Cheshire Center Student Homebuilders
Advisor-open
Students enrolled in Construction Trades have the opportunity to participate in meetings and activities of the Southwest NH Home Builders Association. This gives students experience in how a professional business organization functions.
Chinese Club
Advisor-Nan Hyde
The Chinese Club meets once a week to explore the Chinese culture through traditional Chinese games and regional Chinese food while learning about the culture. Annually, the club hosts Chinese exchange students for a week at the beginning of the year. They also plan a Chinese New Year Celebration every year with many performances and activities. Biannually, they host a ten-day trip to China and a day trip to Chinatown.
Chorus
Advisor – Danielle Heeran
Class Council
Class of 2020 Advisors-Diane Delisle, Shelly Gardner
Class of 2021 Advisors- Hayden Patterson, Matt Ohlson
Class of 2022 Advisors- Bill Hope, Traci Johnson
Class of 2023 Advisors- Stacey Massiah, Kaitlyn Jones
A class council group exists for each class. Students have to be elected into their class council, but any member of their class is welcome to attend meetings. Generally these students help organize the activities for each class, especially events like homecoming, the prom and any other activities that are specific to that class.
Culinary Art Club
Advisor – Scott Rogers
DECA (Distributive Education Clubs of America)
Advisor- John Luopa
These students are enrolled in marketing education or advertisement and recreation management
Destination Imagination
Advisor – Meredith Pancake, Christi Daniels
This is a group of students involved in problem solving exercises. They are involved in regional, state and national events.
Drama Club
Advisor- Beth Hansel
The Drama Club is one of the school's largest clubs, which is primarily involved in two productions each year at KHS – a musical in the fall and a play in the spring. The club is active all year.
Edge of Leadership
Advisor – Martha Lavigne
Educators Rising
Advisor – Jennifer Antosiewiez, Cheryl Lamoureux 
Envirothon Team
Advisor – Marshall Davenson, Monica Foley
Envirothon is an academic contest where several students work collaboratively as a team taking written and practical tests dealing with environmental issues.
FBLA (Future Business Leaders of America)
Advisor – Pat Lagace 
This club is open to any students enrolled in any Business Education or computer science class.
FCCLA (Family and Career Community Leaders of America)
Advisor – Eileen Holmes
These students work to promote personal growth and leadership development through family and consumer sciences education. Students in Early Childhood Education participate in FCCLA.
FFA (Future Farmers of America)
Advisor – John Mitchell
This is an association of agriculture students interested in the science, business, and technology of agriculture. At the Cheshire Center, students enrolled in Horticulture participate in FFA.
First Robotics
Advisor – Dean Joyal, John Odgers, Christopher Ponce
Keene High First Robotics is a year-long club that introduces students to science, technology, engineering, and teamwork. They work with local companies to design and build a robot to solve a problem. In the fall, they work to refine our team and to fundraise for travel to regional and national events. Club members use local events as a showcase to display our robot to the community. 
The club then works on team building until the kickoff of the next problem in January. The FIRST Robotics Competition challenges teams of students and their mentors to solve a common problem in a six-week timeframe using a standard "kit of parts" and a common set of rules. Teams build robots from the parts and enter them in a series of competitions.
French Club
Advisor – Marie-Lise Reilly
HOSA (Health Occupations Students of America)
Advisor – Cathrine Kissell
The goal of this group is to promote career opportunities in the healthcare industry and to enhance the quality of healthcare to all people. Students in Health Science  Technology classes participate in HOSA.
Interact
Advisor – Louise Zerba
Interact is sponsored by the Keene Rotary. Students work on community service projects and raise funds to support local, regional, and international humanitarian projects. Selection for membership is by nomination.
Intramurals
Advisor – Brian Connelly, Heather Graves
Jazz Band 
Advisor – Rich Clark
Junior Lions
Advisor – Jim Fennell
The Junior Lions attend weekly luncheon meetings of the local club and assist in their various community projects. Selection for membership is by staff nomination.
Key Club
Advisor – Holly Rice
This club is affiliated with the local chapter of the Keene Kiwanis. Members of this club volunteer time for community-based charities and young children's organizations.
Math Team
Advisor – Rob Tiebout, Kaitlyn Taft
The Math Team is a group of students who meet on a regular basis the entire school year. The club is designed to challenge students mathematically in competition at the regional and state level. Students are actively engaged in problem solving exercises in the following areas: Arithmetic (puzzle problems), Algebra I & II, Geometry, and Advanced Math.
Model UN
Advisor- open
At Model UN, students step into the shoes of ambassadors of countries that are members of the UN, from Argentina to Zimbabwe. The students, better known as "delegates", debate current issues on the organization's vast agenda. They prepare draft resolutions, plot strategy, negotiate with supporters and adversaries, resolve conflicts, and navigate the UN's rules of procedure – all in the interest of resolving problems that affect the world.
National Art Society
Advisor – Shannon Perry
National Art Honor Society (NAHS) is for students interested in the fine and performing arts. Students have opportunities to: serve as an officer to NAHS members, participate in school and community artistic activities as members, raise money for an art scholarship, participate in various artistic workshops and endeavors spurred on by the membership. Some examples include face painting, The Empty Bowls project, and working with clay, basket making, painting, card making, and book making. To be eligible, a student needs to take one art class per calendar year and maintain a "B" average in that class.
National Honors Society
Advisor – Shannon Perry
Student Athlete Leadership Council (SALC)
Advisor – Michael Atkins
This group promotes athletic leadership in the school.
Science Club
Advisor – Chelsea Agee, Monica Foley, Susan Romano
Sierra Club
Advisor – Marshall Davenson
The purpose of this club is to heighten environmental awareness of students at Keene High School. They do a number of volunteer projects such as cleaning up parks and wilderness areas, and taking part in various research being done in the area of environmental science. The club also sponsors Earth Day at the high school in April.
Shakespeare Club
Advisor – India Lawrence
The Shakespeare Club meets weekly to read, discuss, enjoy, and play with the works of William Shakespeare. Activities include theater games and improv, reading Shakespearean plays, acting out scenes, discussing Shakespeare and his works, making literary jokes, engaging in wordplay, watching Shakespearean movies, digressing, and having fun.
Skills USA
Advisor – Dawn Lagace
This is an organization serving students enrolled in programs of study in high tech and service occupations. Cheshire Center students enrolled in Electronics, Industrial Communications, Culinary Arts, Cosmetology, Automotive Technology, and Drafting may participate in the club.
Spanish Club
Advisor – Erica Caffery
Strings Club
Advisor – Amanda Paul
Student Council
Advisor – Chelsea Bond, Liz Anderson
Student Council members are elected representatives from each class and who assist in the governance of the school. The student council is involved all year in virtually all aspects of the school.
Students for a Free Tibet
Advisor – Jennifer White
The purpose of this chapter is to aid the Tibetan people in their struggle for autonomy, freedom, and basic human rights from China through campaigns and other activities. The goal is to raise awareness for the Tibetan cause through education and nonviolent direct action.
TAG (Teen Advisory Club)
Advisor – Jackie Neath-Foster
Velocity
Advisor – Evan Carpenter
This is a female dance troupe.
Video Club
No advisor listed
Video Club is an extension of the TV & Film Program offered through the Cheshire Career Center where students can build their skills through real-world experiences such as filming athletic events, Mr. Keene High, the Runway Fashion Show, Nostalgia, Salmagundi, school board meetings, workshops, guest speakers, concerts, and public service announcements for both the City of Keene and local businesses. 
Vocal Jazz
Advisor – Danielle Heeran
Wildlife Conservation Club
Advisor – Sean Graves
This club promotes, develops, and teaches awareness of ecological principles related to natural resources. They promote, develop, and teach safe and ethical use of our natural resources. Students work closely with NH Fish and Game Agency to learn about our natural resources, create habitat, remove invasive species, restore natural areas, help with salmon restoration, creel surveys, and tagging fish and animals.